Beyond butter flavor solutions can include non-dairy margarines in dollops that melt perfectly.
It may be in the name, but Butterball® Farms offers much more in flavor solutions than butter, or dairy. Today, the company's R&D Team is solving flavor challenges ranging from flavored cream cheeses, flavored mayo's, gravies, marinades, and other custom sauces for food processors.
"Plant-based sauce solutions are part of our expertise and of growing interest among our clients," says Lucia Falek, Butterball Farms Vice-President of Development and Quality Systems. "The phenomenal growth of the plant-based analogs frequently needs a carrier that enhances authentic flavors. Our ability to match intended flavors using real herbs, citrus, and oils and margarines create a perfect match."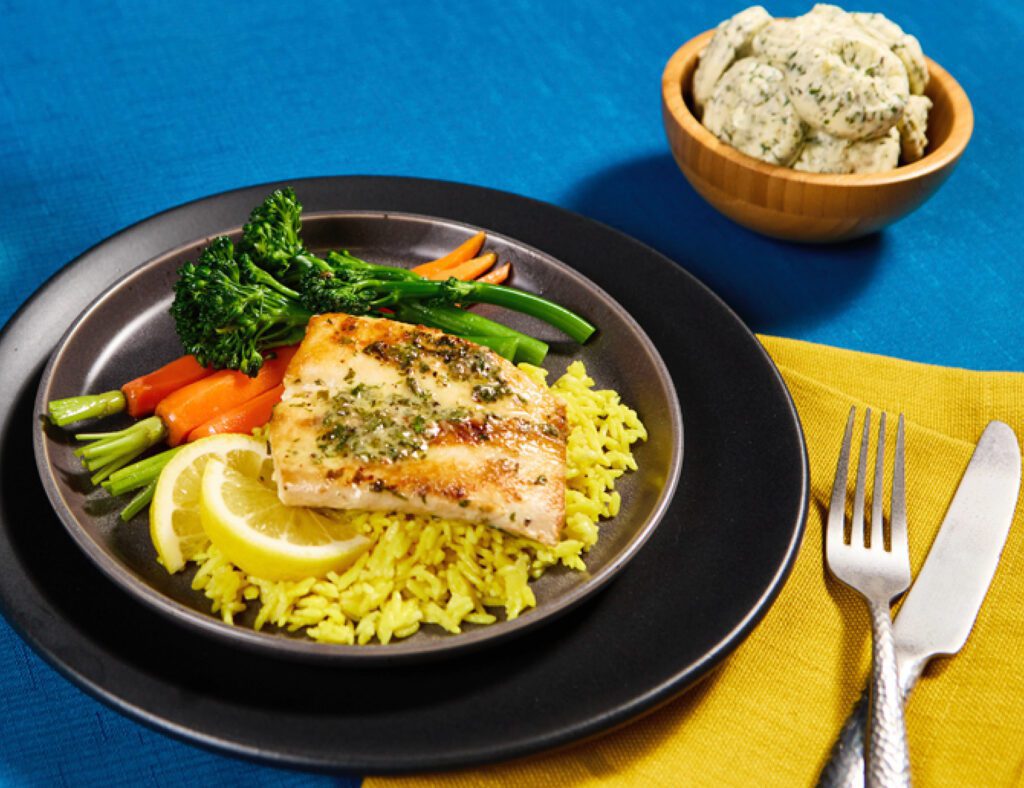 A Lemon Herb dollop brings gourmet value to this seafood filet.
Beyond butter and plant-based solutions, Butterball Farms solves challenges by developing unique ways to offer flavor in line with food processor's manufacturing techniques. For example, a pesto sauce or a sun-dried tomato cream cheese in a dollop form brings gourmet flavors to frozen food, such as seafood, poultry, vegetables or grains. Large particulates of sausage or bacon can bring bursts of flavor for baked goods as well. Butterball Farms all-in-one flavor solutions simplify the procurement process by combining multiple ingredients into one product and save on storage space while eliminating steps in the manufacturing process.
Butterball Farms can provide flavor solutions in pre-portioned dollops or bulk tubs, totes or barrels. Pre-portioned dollops are ready to be inserted into a package while tubs, totes, and barrels can be used with existing enrobing or waterfall processing. Both mean less labor to process food more efficiently.
Besides conventional cooking methods, our flavored dollops work well with new kitchen technologies, such as air fryers and Instapots.
"Another unique application is our dollops used for microwavable seafood boils providing the flavors of multiple ingredients of an authentic boil that can be served by a consumer to their family in minutes instead of hours of preparation."
Flavored Dollops can add a new twist to a traditional seafood broil
"Today, we're creating a variety of sauces, from large volume enrobing buffalo sauce as well as buffalo sauce dollops for CPG clients," Falek says.
Spicy Mayo is +11% on menus in the past year.
Datassential, Dec. 2022
"Spicy aioli's and mayo's are also in high demand by consumers. CPG companies can leverage our ability to provide large volume aioli's or supply them in dollop form. Furthermore, our capabilities expand into fillings and toppings for a variety of dishes. Some of the most popular filling products include butter with breadcrumbs and cheese that can complement chicken or salmon. A variety of our topping options include cinnamon and brown sugar which pairs well with breadsticks or a blue cheese butter perfect for any steak entrée."
"We look forward to seemingly unsolvable challenges," says Falek. "If you have a challenge that is in search of a solution, we'd love to hear from you."
Ready to create a custom flavor? Reach out to our team for your next flavor brainstorm. We look forward to hearing from you!
Create Your Signature Flavor
Complete the form below to learn more.