Individual butter portions of all shapes and sizes
Butterball Farms creates premium individual butter pats, balls, packets, dollops, and portions of all shapes and sizes.
Want to wow your guests with butter and maximize their experience? Need a sophisticated butter product for your fine dining tabletops? Interested in embossing a butter pat with your company logo? Butterball® Farms has the individual butter product that's right for your business needs.
We imagine butter differently. You should too. Ready to serve, simple to use and unbelievably fresh, Butterball Farms only uses locally sourced, premium sweet cream butter.
Individual Butter Portions
Salted Single-Serve Butter
We offer individual servings of fresh, high-quality, sweet cream salted butter in bulk. From our classic Butterball Butter Premium Balls®, timeless floral designs, and fun geometric Pop-Outs® to individually wrapped butter pats, we manufacture individual butter portions in a variety of shapes and designs. Use these either in the front of the house to elevate the dining experience or back of the house for sauces, soups, roux, and more.
Unsalted Single-Serve Butter
We manufacture our rich, creamy, unsalted single-serve butter in a variety of shapes and designs, from simple domes or butter balls to sleek, sophisticated medallions and beautiful embossed roses. Unsalted butter in bulk is a great investment for bakeries or other chefs who want more control over their salt-to-butter ratio.
Types of Individual Butter Pats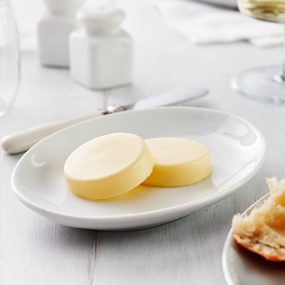 Butter Medallions are the perfect, smooth, classic addition to any tabletop or bread basket. The simple medallion provides a sleek, sophisticated look and just enough butter to share or to enjoy a delicious indulgence of rich, creamy butter. Let your patrons decide on their portion size with salted and unsalted butter medallions.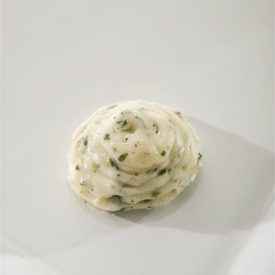 Ready to take your dish to the next level? Flavored butter dollops are delicious mounds of pre-portioned, frozen butter that can easily be added to pre-packaged meals. We offer a wide variety of sizes as well as gourmet flavors, from apple herb to chile lime cilantro to parmesan black pepper.
Looking for a solution with a little more flavor? Make your own! With the help of our incredible culinary team, we can work with you to develop a custom butter flavor that is completely unique to your brand and meets your application specifications.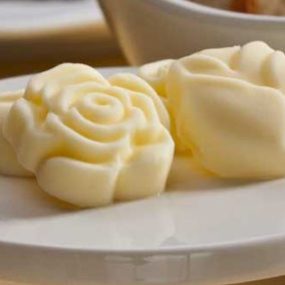 Make a statement with our uniquely shaped butter pats. We base our shaped salted and unsalted butter designs on the beauty of nature, the clean lines of geometry, or the familiar patterns of fun objects from everyday life. We can even emboss your company logo!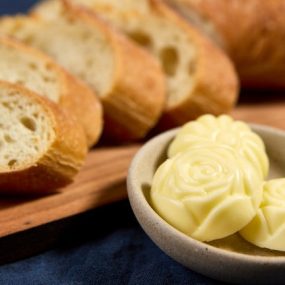 Butterball® Farms offers customizable butter products of every sort. Whether you want a specific shape, unique flavor, custom logo, or special size, our team combines the meticulousness of food science with the passion and imagination of the culinary arts to produce products that greatly enhance your value and works to your specification and application.
Where Can I Buy Individual Butter Packets?
Individual Butter Pats for Every Industry
For just pennies per serving, you can transform your butter from an afterthought to an invaluable asset for your business, making them think you thought of everything. We are the perfect choice for caterers, foodservice, restaurants, and more!
Frequently Asked Questions
Why Choose Butterball Farms?
At Butterball® Farms, we Imagine Butter Differently. As butter manufacturers for more than 60 years, we have been producing artisan-quality, embossed tabletop and flavored butters that create a sophisticated customer experience.
Family-owned and operated, we've long been recognized for delivering exceptional, quality, value, and service. We will do the same for you. Give your customers the best with premium butter from Butterball Farms.

Find Butterball® Farms individual butter pats near you today, or contact us for more information.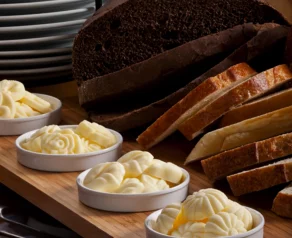 Looking for another flavor?
We can create a custom flavor profile just for you!