As timelines for new product development has gotten shorter, CPG development teams reach for ways to lessen changes to existing manufacturing processes. Portion control is the easy choice. With more than a half-century of innovation, Butterball® Farms is the market leader in flavor solutions within portion control packaging. Butterball Farms offers a variety of portion control options from flavored dollops (bulk or individually wrapped) to medallions, mini-rolls, or cups.
"Portion control can short cut the retooling of process equipment while assuring consistency in every package," says Lucia Falek, Butterball Farms Vice-President of Development and Quality Systems. "We've invested in the latest technologies to provide our CPG customers portion control options that solve their manufacturing challenges."
Flavored dollops are in high demand by the company's CPG clients because they can be easily added into the manufacturing process as a way to impart flavor in the final minutes of preparation by the end consumer. These pre-portioned dollops can include combinations of herbs, citrus, fruit, and savory flavors for use in CPG frozen or refrigerated products involving proteins, vegetables, or breads. Our R&D team will work with you to customize any butter dollop with a flavor profile unique to your meal kits and applications.
Butter Is +55% As A Sauce On Chicken Wings At Restaurants.
Datassential Dec. 2022, Since 2018
Furthermore, the dollops or medallions can be individually wrapped to be included in the packaging. The wraps can be imprinted with branding, ingredient statements or allergen warnings.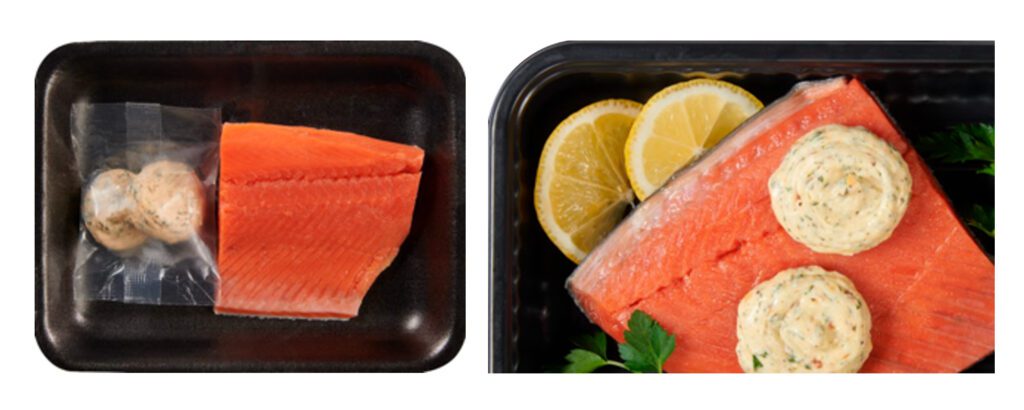 Individually wrapped or unwrapped, flavored dollops melt perfectly when ready for preparation.
Portion control options can be sized to client specifications (ranging from .125 to 8 ounces) with larger, bulk options also available. These options can bring ideas from sweet to savory to life. Imagine a sea-salt caramel dessert bite or a sea-salt caramel wafer that melts into the frozen croissant when warmed. Or, a rosemary thyme butter dollop that can be packaged with potatoes or rice.
Butterball Farms offers the broadest portfolio of flavored butter, sauce and spread options in an array of packaging. If your challenge involves the need for a pre-portioned flavor solution, put this company on your list.
Ready to create a custom flavor? Reach out to your team for you next flavor brainstorm. We look forward to hearing from you!
Save Smarter,
Not Harder with     Pre-Portioned Dollops 
Complete the form below to learn more.