A quick way to increase your  shopper's market basket
COVID created a fresh opportunity for retailers and processors to boost sales of fresh seafood to their customers. Evidence came as a 51% increase in frozen seafood sales through May 31, 2020 but only a 26% increase in fresh.
Overall, the average American shopper consumes 112 pounds of poultry and 111 pounds of meat each year compared to only 16 pounds of seafood.
According to the experts and the results of the 2020 Future of Fish report by the Food Marketing Institute, it all boils down to educating the consumer on how to easily prepare fresh seafood that will delight their families and at a reasonable price.
"We have to get them (the customer) to where they can pop it into an oven is where we need to go to make it more convenient."

Guy Pizzuti | Seafood Category Manager | Publix
There's an impressive business case for ramping up the emphasis on making fresh seafood a priority. The latest Future of Fish report says that frequent fresh seafood customers spend nearly three times as much on a visit to a retailer than a typical shopper ($98 vs, $35 per trip). The important Millennial shopper is also the most likely to be interested in learning more about and purchasing fresh seafood.
Knowing about the species of the fish, it's freshness and how to impart flavor easily is key to selling more. Guy Pizzuti, the Seafood Category Manager at Publix said of the report's findings, "We have to get them (the customer) to where they can pop it into an oven is where we need to go to make it more convenient."
Publix responded by adding weekly selections to their offering, such as this prepared heat and eat Tilapia meal that's ready to cook. The meal comes with four optional sides and sauces, including a Dijon cream sauce with quinoa blend, spinach, sun-dried tomatoes, artichokes and bell peppers and a sweet chili sauce with rice and Asian vegetable medley.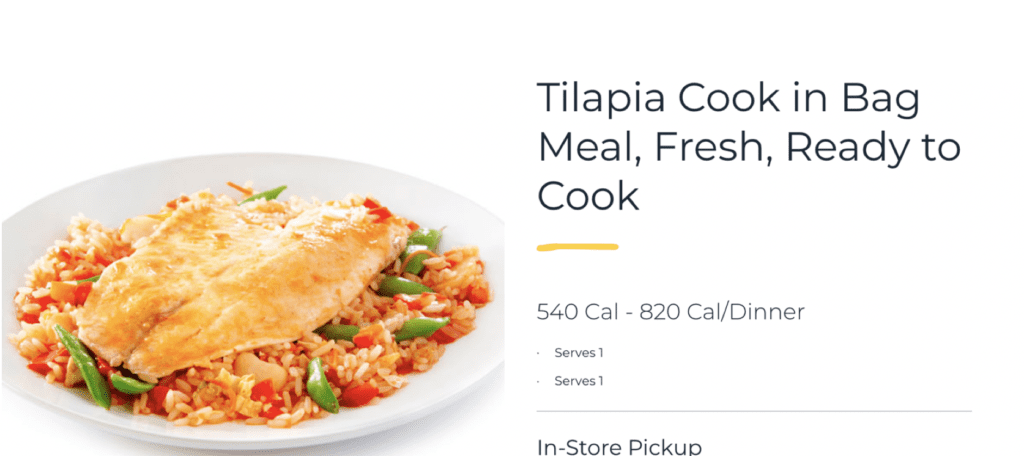 Publix's Tilapia Ready To Cook Meals come with four choices of sides and sauces.
At Midwest retailer, Meijer, the response is similar. A quick check of a recent offering offers two Atlantic Salmon filets in a heat and serve pan with dollops of herb shallot butter and another with spinach and feta butter.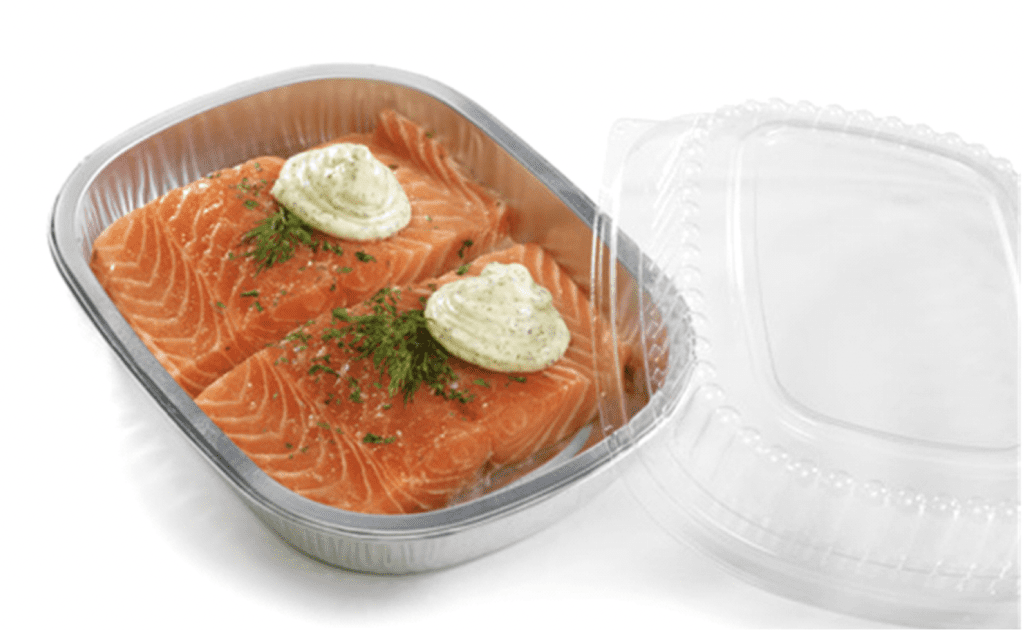 Meijer's Atlantic Seafood Filets with Herb Shallot Butter.
It's all about helping the consumer feel more comfortable about preparing a meal that's flavorful much the same as in a restaurant. The Future of Fish 2020  report says that 44% of supermarket shoppers would buy more fresh seafood if it were partially prepared to remove doubt and speed the preparation process. Today, 50% of shoppers say there is not enough information on cooking fresh seafood preparation methods.
There is some work in elevating the ease within a retail environment in search of new ways to drive traffic and basket rings at checkout. Here are some recommendations:
Training the fresh seafood staff into becoming more knowledgeable about the seafood offered
More merchandising that shares insights about the origin and freshness of the seafood
More recipe cards for customers to take with them
More partially prepared meals with flavored butter that are as simple as heat and eat
For adding cravability to seafood, few preparation methods offer an easier opportunity than flavored butters. From grilling to glazing, herb and citrus butters, bringing a healthy positioning to seafood across the scale of retailers, restauranteurs and seafood processors is a path to success in 2021.
To learn more about Butterball Farms' line of flavored butter dollops and to order your free sample, visit ButterballFarms.com.