One of the casualties of the pandemic has been the lack of a labor pool to handle the wave of customers who are returning to their favorite restaurants. Instead of closed doors and food in cardboard for delivery, there are long wait times for dine-in customers while there's not enough staff to handle the crowds. So, how do you elevate flavor with few trained in the kitchen to mix up some cravable goodness? Here's an idea.
A quick look at menu mentions by Datassential finds that garlic herb is up 11.4% in just the past year, garlic parmesan is up 41% since 2017.
Even before the pandemic, chefs who had discovered the allure of adding herbs, spices and citrus into premium butter were complaining about the inconsistencies of batches made by kitchen staff. Often untrained, new kitchen staffers could make inconsistency an even bigger problem. Butterball® Farms foresaw the challenge by formulating flavored dollops that reduces labor, assures consistency, boosts flavor, and speeds kitchen prep.
Flavored butters are also trending. A quick look at menu mentions by Datassential finds that garlic herb is up 11.4% in just the past year, garlic parmesan is up 41% since 2017 to name just a couple. These flavors taste even better when they combine with a premium butter atop a protein or vegetable, not to mention bread!
"Our research and development team developed a process that enables the dollops to maintain a consistent size and form until they are heated," says Butterball Farms' Director of Marketing, Bonnie Beard. "Compared to compounding a flavored butter in-house, our dollops shave labor time and costs while eliminating the issue of consistency." Butterball Farms' dollops are all natural and clean label as well.
Butterball Farms is a family-owned Michigan company that has partnered with regional dairy farmers for more than 60 years to provide the freshest premium butters. The company serves some of America's top national chains with quality butters, sauces and more.
Butter has been a cravable ingredient for centuries and when a combination of other savory or citrusy flavors are added to menu items customers take notice, and they are likely to pay more for the experience.
Proteins, such as beef, chicken or seafood are easy go-to's for flavored dollops, but don't overlook your options for vegetable sides. Looking at the latest trend data, the top four fastest growing vegetable sides all could benefit from a flavored dollop.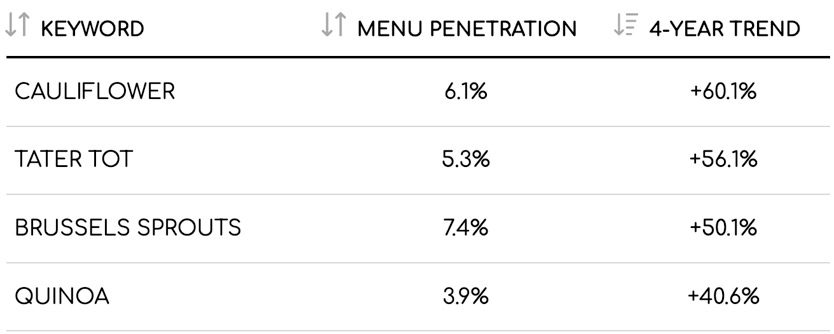 Bread is likewise trending because consumers fell in love with baking their own breads while sheltering at home. Now, they are celebrating their newfound freedom with assorted bread trays, charcuterie, biscuits, and globally inspired breads that all are ideal for beautiful shaped butter. When you use either a premium butter ball or butter roses to decorate your table bread service, customers will think you thought of everything.