Finishing butter has the power to transform a restaurant's menu items. The rich, savory taste added to meat dishes, vegetables, and baked goods enhances nearly any recipe. Also called compound butter, finishing butter is created by quickly whisking butter, then coating the butter onto the food with a basting tool or spoon. Restaurants and other food establishments can use finishing butter in their meals and appetizers, but before doing so, it's important to know the best techniques. Properly utilizing finishing butter is an art that must be refined and perfected. Learn the best practices for implementing finishing butter in your kitchen.
Compound Butter for Your Restaurant Dishes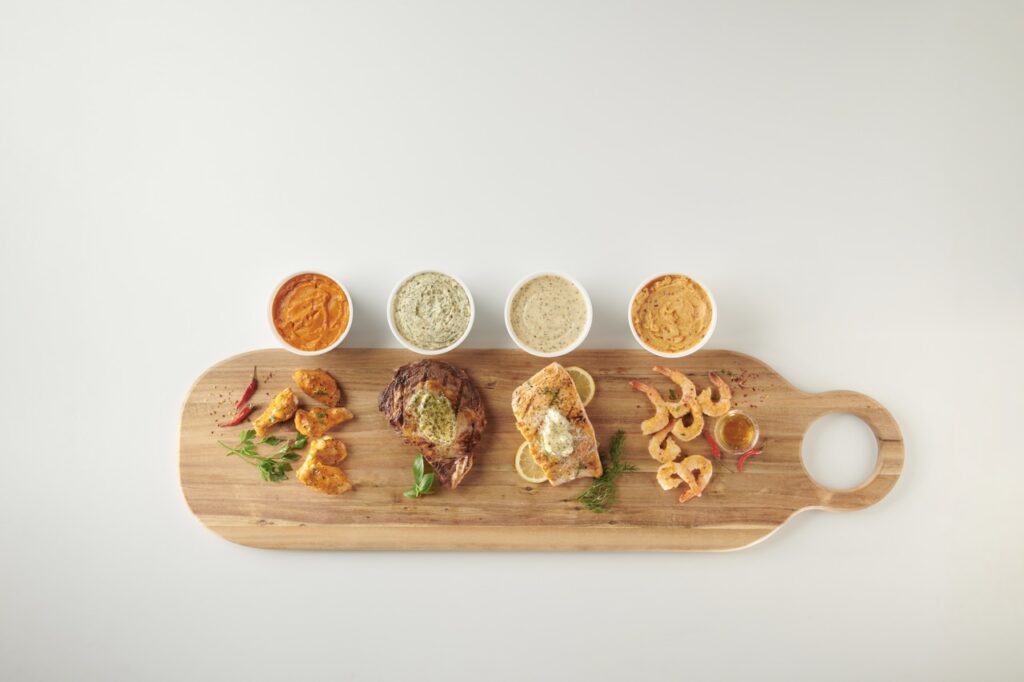 Our flavored compound butters are a favorite among restaurants. The added herbs, spices, and seasonings reduce prep time for chefs and line cooks by eliminating that extra step of the cooking process. Why waste valuable time and resources mincing, measuring, and distributing garlic when you can simply add garlic finishing butter?
A wide variety of compound butter flavors can be created for your restaurant. Some of the most common variations of compound butter include lemon herb finishing butter, garlic finishing butter, lemon dill finishing butter, basil finishing butter, and finishing butters with sun-dried tomato flavoring.

Save Time in the Kitchen
Creating your own finishing butter is time-consuming and unnecessary. The effort spent measuring and mixing ingredients for finishing butter could be better utilized perfecting recipes and tending to the requests of guests. Talent is in short supply these days, so the hours of restaurant workers should be spent wisely.
The texture and flavor of flavored finishing butter is a highly particular craft, and it can be difficult for chefs to replicate the same results each time. Our food engineers have the creation of finishing butter down to a science. Ordering in bulk results in a batch of butter that has consistent flavoring in each serving.
Embellish Your Menu Items
Bread rolls are a staple of any restaurant, and while standard bread is satisfactory, honey-butter glazed bread rolls are a mesmerizing, unforgettable experience that will have customers returning again and again. The rich, buttery taste enhances any dish, and added seasonings combine with other flavors to create a mouthwatering sensation. There is no recipe that cannot be made better with finishing butter and a talented culinary team.
Create Masterful Recipes
A finishing butter being added to your collection of menu items is the perfect opportunity to create an enthralling new recipe that customers will adore. With the right dish, your establishment could become the talk of the town. Butterball Farms can be your butter supplier for quality ingredients that contribute to delicious new recipes. With creativity and some experimentation, the possibilities of flavor combinations are nearly endless.
How to Use Finishing Butter in Restaurant Dishes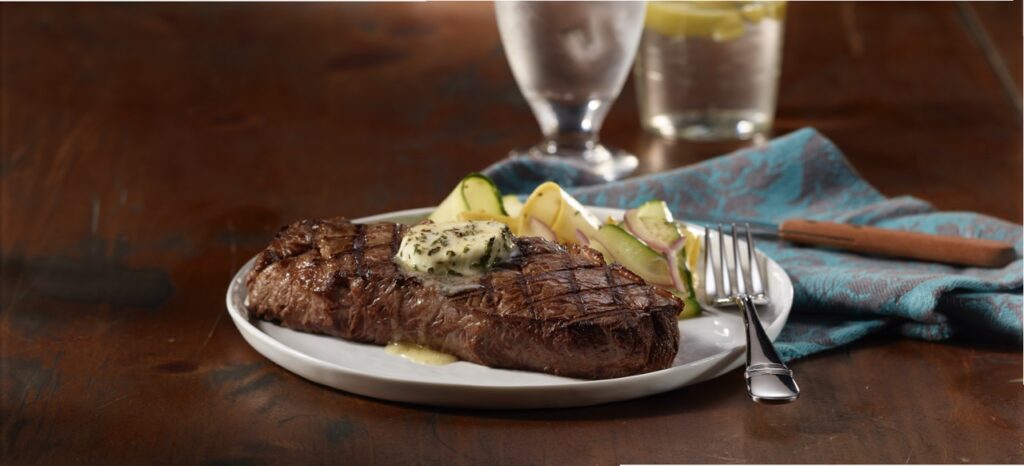 Finishing Butter for Steak
Horseradish blue cheese flavoring adds a tangy twist to any classic steak dish. Many also enjoy steak finishing butter infused with garlic or black pepper. This is a savory addition to a rib-eye steak cooked to perfection. For a clean and earthy taste, apply a finishing butter filled with parsley to your tenderloin.
Truffle Finishing Butter
Whether added to meat, risotto, or eggs, truffle finishing butter adds a pop of rich and complex flavor to any recipe. The bits of black or white truffles inside the finishing butter accentuate salty or savory meals and add a luxurious taste of your favorite dishes. Its musky, earthy aroma complements chicken, fresh pasta, warm baguettes, and potatoes beautifully. Truffle finishing butter enhances natural flavors like garlic, pesto, cilantro, and basil, so it's the perfect addition to recipes with such undertones.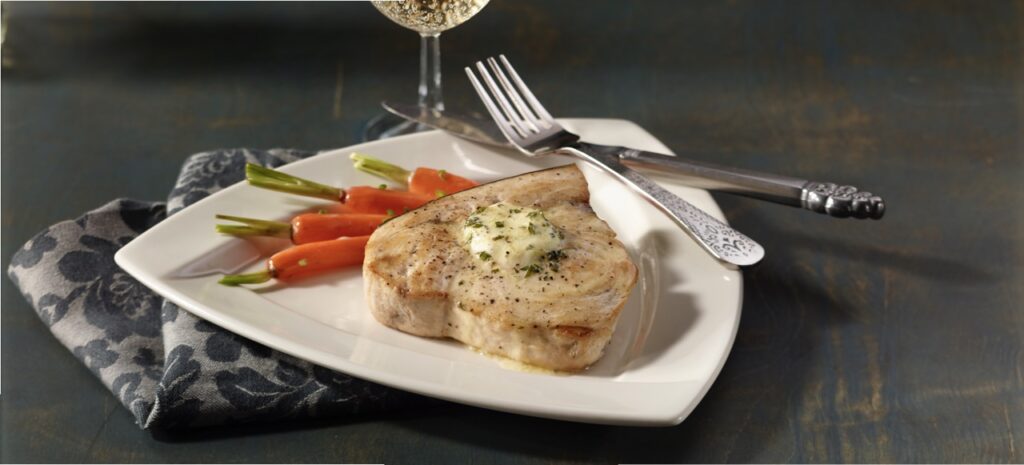 Finishing Butter for Fish
It's essential to know which finishing butters pair well with your culinary seafood creation. A smokey grilled salmon pairs best with mixed herb butter. Lemon, thyme, dill, and olive oil are also suitable salmon seasonings. For tilapia dishes and grilled sea bass, garlic finishing butter is an industry favorite. If your team is cooking up some poached Alaskan fish, why not try a lemon butter fillet? There is an abundance of delicious recipes for lemon herb finishing butter or lemon garlic butter with whitefish and swordfish dishes.
Fish aren't the only seafood items that are enhanced by finishing butter. Lobster, crab legs, shrimp, and oysters greatly benefit from a rich, salty butter taste. Use garlic butter or lemon herb finishing butter for oysters and shrimp. Red chili pepper finishing butter adds the ideal amount of spice to lobster tails and lobster rolls, and what would crab legs be without a tantalizing garlic herb butter? All of your locally renowned seafood recipes can be embellished with compound finishing butter.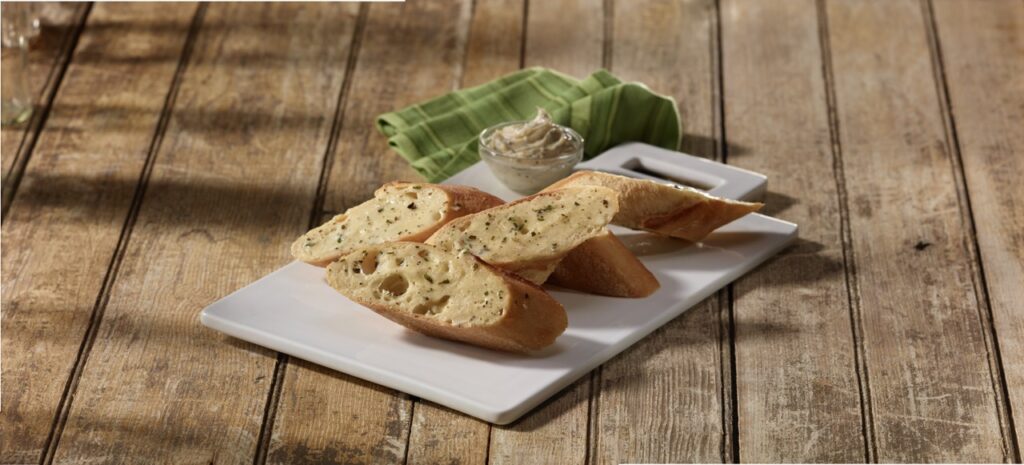 Finishing Butter on Bread
Using finishing butter on bread is one of the simplest ways to enhance your bread baskets. Reach magnificent levels of flavor with simple finishing butter or with sweet honey or brown sugar compound butters. Apply the finishing butter to bagels, baguettes, muffins, rolls, croissants, and pound cakes. The butter melts into the warm, freshly baked goods, resulting in a heavenly aroma and an even more divine taste. One of our most popular finishing butters for bread is our garlic spread, which makes the perfect garlic bread in a matter of minutes.
Order Our Finishing Butter for Restaurants
At Butterball Farms, we've been creating premium, artisan-quality butter for restaurant use for over 60 years. As a trusted industry butter supplier, we work with customers to achieve the desired outcome for their gourmet dishes. Reach out to our team and tell us about the type of finishing butter product you have in mind for your restaurant. Whether you're looking for pre-portioned finishing butters or butter in tubs, we have an option for you. We'll collaborate to create a custom finishing butter just for your establishment. Be sure to ask us about our private label options.