Make Meal Time Better with Our Butter Pats
Butter pats are a part of any well-rounded meal, adding a creamy, buttery element that makes every bite a true treat. Whether they're at the table when guests arrive at a catered event, brought out with a warm bread plate as an appetizer, or served on top of a succulent steak or seafood dish to provide another layer of rich flavor, butter pats are a kitchen staple.
At Butterball® Farms, we're committed to creating memorable dining experiences. Here, top-quality taste meets unique products that your customers will appreciate and admire—they may even flag you down to ask for seconds! Our premium butter pats make the boring, plastic-wrapped butter packs you're used to a product of the past by significantly improving upon flavor and visual aesthetics—once you try Butterball butter pats, you'll never go back.
Butter Pats from Butterball Farms
Butterball Farms offers creamy, flavorful butter pats to pair with all of the delicious dishes your kitchen is cooking up.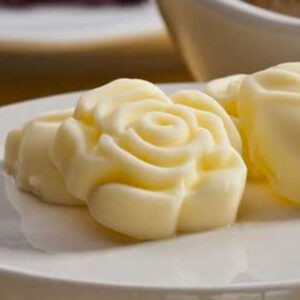 First impressions are everything. Before the tasting begins, diners visually take in the plate of food before them, anticipating what the dining experience will be like. Shaped butter pats create a unique and positive association from the very beginning of a meal, as they add a level of unexpected detail. Delighting your guests with this level of intentionality and personalization encourages them to remember their experience with your services.
At Butterball Farms, we offer many kinds of eye-catching and tasty shaped butter pats, both salted and unsalted. Our premium, European butter made from farm-fresh cream makes it easy to upgrade all occasions:
Beautiful florals: Our floral butter pats, including Pop-Out Budding Roses and Pop-Out Rosettes, make a beautiful addition to any catered event, baby shower, or springtime wedding, providing a deliciously romantic tableside touch.
Elegant shapes: Geometric shapes, like the Pop-Out Dome and Pop-Out Medallions, provide clean simplicity for elegant affairs, like a corporate training luncheon, retirement party, or gala event.
Timeless classics: Why mess with perfection? If you want a simple, classic shape for your butter, consider our premium butter balls.
Seeking a shaped butter pat with different flavor notes? We provide custom butter services to give you exactly what you're looking for, whether sweet, savory, or spicy.
Classic butter pats have their place, but to create a truly crave-worthy meal, flavored butter pats will always be the supreme spread. Butterball Farms offers many types of flavored butter pats, utilizing high-quality spices, herbs, cheeses, meats, and citruses—there is truly a decadent pat for every plate. All kinds of dishes, from proteins to pasta to baked goods to desserts, can benefit from our fantastically flavored butter pats.
For chefs, caterers, or companies wanting to obtain a specific flavor profile in their butter offerings, Butterball Farms is the butter supplier for you. We enjoy working with creative culinary minds to make custom butter pat flavors that satisfy your customers. Purchase butter pats in bulk or individually flow wrapped, depending on your needs.
Deliciously Detailed Butter for Your Industry
With restaurants in direct competition not only with each other but also with the option of consumers staying at home, it's important to stand out from the crowd and provide a truly memorable experience. Butterball Farms is here to help you establish your spot as a top foodie favorite by delivering on the details. Shaped and flavored butter pats instantly upgrade a meal.
Whether you're serving Salted Pop-Out Medallions with a fresh, warm basket of bread or topping a steaming steak with a garlic-and-herb-infused pat of butter that features your brand logo, guests will notice the level of purposeful planning that goes into every dish. Happy guests are returning guests, and better butter gets them one step closer to booking next week's date night out.
Catering Companies
Catering is all about creating mouthwatering memories, and foil-packaged butter pats simply won't cut it if you're wanting to create elegant eating experiences. Imagine the joy a prospective client will feel upon learning you offer butter shaped like their favorite flower, providing a tasty personalized touch to their special occasion. Premium butter pats from Butterball Farms help to elevate your offerings in both function and flavor.
Create custom, private label butter pats to increase your brand awareness with Butterball Farms. Whether you're ordering salted, unsalted, or flavored butter pats, customers will come back time and time again for the creamiest, most craveable butter products on the market. Add butter pats to your pre-packaged meals, like vegetable or pasta dishes, or sell them as an offering to your fresh baked goods or in meat and seafood sections.
Hotels & Conference Centers
Creating a consistent, high-end experience is a must for successful hospitality chains. No hotel breakfast is complete without lots and lots of butter pats. Make yours stand out by creating custom butter pats with your hotel logo—your guests will enjoy the taste of our premium butter as well as the first-class attention to detail.
In the consumer packaged goods industry, continually elevating the eating experience is a must to both attract and retain satisfied customers. Butterball Farms makes spicing up your meal kits simple. Add in different flavored butter pats to completely alter the flavor profile of a dish. Have them individually wrapped so they can be easily added to your packaged goods, creating a barrier between the butter and the protein, starch, or vegetables.
Order Wholesale Butter Pats Today
Butterball Farms is the leading provider of wholesale butter products. Purchase creamy, single-serve butter pats for your restaurant, catering company, consumer packaged goods, or retail storefront. For classic salted or unsalted butter pats, find a distributor in your area to get started. For flavored butter pats, contact us for a free flavor consultation.